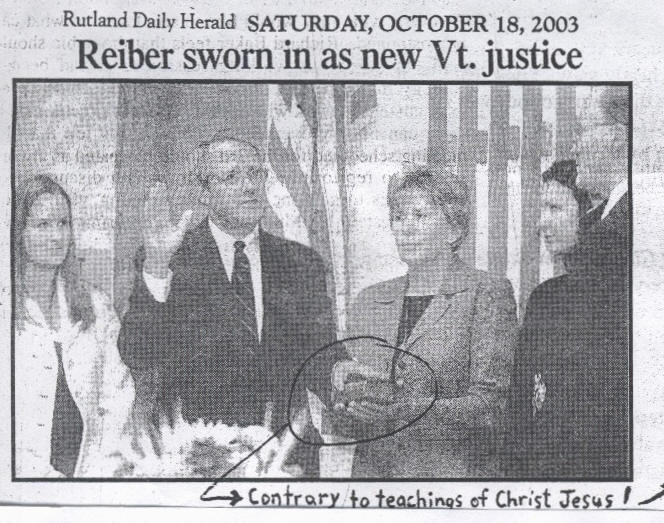 The Vermont State neither has authority over Christ Jesus, nor His Church. The State is a separate spiritual entity that does not represent Christ Jesus. There is a battle in worldview between the State and Church. SERIOUS WARNING: "The State of Vermont government DOES NOT demonstrate Christianity, nor does it uphold Jesus' teachings despite Governors and others taking an oath of office on a Bible, or the VT Constitution alluding to the Bible. Referencing Scripture is extremely rare, and not done in earnest. It is, therefore, by default, a de facto, secular entity and enemy of Christ Jesus thereby a source ruining people and society!" –Ambassador Thomas. Guard your heart and mind! True Christianity is not unequally yoked with unbelievers. (2 Cor. 6:14) "Cases in which the church seeks comfort or consolation from secular governments are usually cases in which the church has lost its purpose." -The Unstoppable Church; Fletcher Tink; page 67. "The Christian's primary allegiance is always to Jesus Christ. Christians proclaim Him Lord, recognize Him as their legitimate King, and live as citizens of His kingdom first and foremost. The demands of human government are always secondary to the demands of Christ and His Kingdom—as the lives of countless martyrs and the persecuted church past and present attest." -Chuck Colson
PDF Files Exposing Vermont Government's un-Biblical Worldview:
"If the First Reich prepared the way for Hitler by unifying church and state, the Second Reich contributed to the paralysis of the church by teaching that there must be a split between private and public morality*. Otto von Bismarck (The shrewd premier of Prussia) claimed to have had a conversion experience to Christianity while visiting in the home of some pietistic friends. But he was faced with the realization that as a political statesman he had to violate the moral principles that governed his private behavior as a Christian. He reasoned that when acting as a servant of the state, a man was not bound by the same morality he should have as an individual. The state, it was argued, should not be judged according to conventional law because its responsibilities went beyond ordinary human values." –Hitler's Cross, Erwin W. Lutzer
"The victory for freedom of thought recorded in our Bill of Rights recognizes that in the domain of conscience there is a moral power higher than the State. Throughout the ages, men have suffered death rather than subordinate their allegiance to God to the authority of the State. Freedom of religion guaranteed by the First Amendment is the product of that struggle." Supreme Court of the United States, Girouard v. US, April 22, 1946 Sacred Right of Conscience
Mr. Boorstin, once Librarian of Congress, Pulitzer and National Book Award winner, and a lawyer, writes, "we have yet to see a government that has ruled a society effectively without providing its people with some persuasive way of believing that their laws come from some higher, deeper, indwelling source." Also consider these lyrics: When Humans Become our Gods
"The state must recognize that a fundamental system of values based on Christianity is the precondition for its existence." – Church, Ecumenism, & Politics, Joseph Ratzinger, Pope Benedict XVI © 2008
Learn from history: Those who pulled the strings that led to war was not acceptable. It is precisely this situation that the U.S. chief prosecutor at the Nuremberg Trial, Robert Jackson, had in mind when he said in his opening speech on November 21, 1945:
"Let me make clear that while this law is first applied against German aggressors, the law, if it is to serve a useful purpose, must condemn aggression by any other nations, including those which sit here now in judgment. We are able to do away with domestic tyranny and violence and aggression by those in power against the rights of their own people only when we make all men answerable to the law."
WARNING! In [America's] Black's Law Dictionary (6th Edition) the word Sovereignty is defined as "… The power to do everything in a state without accountability, – to make laws, to execute and to apply them, to impose and collect taxes and levy contributions, to make war or peace, to form treaties of alliance or of commerce with foreign nations, and the like." The key issue here is: WITHOUT ACCOUNTABILITY which explains the runaway corruption upon this American Nation. "Communism is power based upon force and limited to nothing, by no kind of law and by absolutely no set rule." –Lenin's Collected Works, Vol. XVIII, page 361. Absolute sovereignty belongs to God only.