It is written: "Do we not all have one Father? Did not one God create us? Why do we profane the covenant of our ancestors by being unfaithful to one another?" -Malachi 2:10
"The earth is the LORD's, and everything in it. The world and all its people belong to him." -Psalm 24:1 (NLT)
Show Me the Father; real people with real stories that meld.
"I cannot think that we are useless or God would not have created us. There is one God looking down on us all. We are all children of one God. The sun, the darkness, the winds are all listening to what we have to say." -Geronimo, Bedonkohe Apache; Stand in the Light, Thomas F. Voight
Every human needs to be reconciled with Christ Jesus in order to end the senseless religious and political hostilities. Christ Jesus does not have a favorite religion, but, rather, teaches in the way of eternal unfailing love. All people are equal at the foot of the cross; that is, no one has mastery over the other, nor is life a competition.
Godly love is easily recognizable by all people when we serve each other in unfailing love. Love and hate cannot be combined spirits because they are diametrically opposed to one another. So, if you claim to have a religion of love, then put it into practice and love all people! Hate, otherwise, reveals your true character as carnal.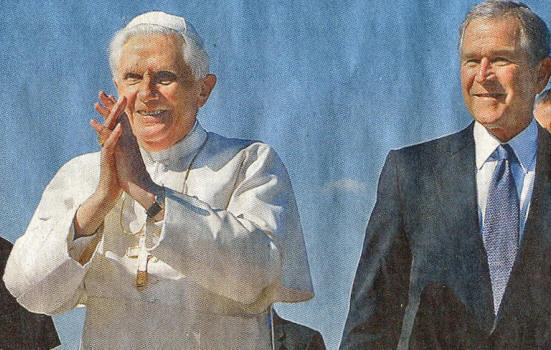 History clearly reveals the debauched attempts of Popes and other religious leaders claiming to represent Christ Jesus. These have caused severe damage to the usage in language of the word Christian. This is why it is written: "Let God be true and every man a liar." -Romans 3:4 The Gospel, nevertheless, still offers eternity with Christ Jesus for those people who humble themselves before Him. Be born anew! "History has shown, that rather than serving as a force of peace, "religions have served to foment (instigate) scores of horrendous and bloody wars,' and religious leaders who have ordered their followers, in the name of religion, to kill indiscriminately, 'have done so by hijacking and distorting the religions in whose name they speak.'" – Israel Singer; World Jewish Congress, Report/Fall 2005, page 7
"This Jesus is 'the stone you builders rejected, which has become the cornerstone.' Salvation is found in no one else, for there is no other name under heaven given to mankind by which we must be saved." -Acts 4:11-12
"and every tongue confess that Jesus Christ is Lord, to the glory of God the Father. Therefore my beloved, just as always you have obeyed, not only as in my presence, but now much more in my absence, work out your own salvation with fear and trembling. For it is God who works in you to will and to act on behalf of His good purpose." -Philippians 2:11-13
"because those who are led by the Spirit of God are the Sons of God.  For you did not receive a spirit that makes you a slave again to fear, but you received the Spirit of sonship.  And by him we cry, 'Abba Father.'  The Spirit himself testifies to our spirit that we are God's children." -Romans 8: 14-16
And, "I will be a Father to you, and you will be my sons and daughters, says the Lord Almighty." -2 Corinthians 6:18
"We love because he [God] first loved us. Whoever claims to love God yet hates a brother or sister is a liar. For whoever does not love their brother and sister, whom they have seen, cannot love God, whom they have not seen. And he has given us this command: Anyone who loves God must also love their brother and sister. -1 John 4:19-21
"Then God said [to Abraham], 'Yes, but your wife Sarah will bear you a son, and you will call him Isaac. I will establish my covenant with him as an everlasting covenant for his descendants after him. And as for Ishmael [born of Hagar, the maidservant] I have heard you: I will surely bless him; I will make him fruitful and will greatly increase his numbers. He will be the father of twelve rulers, and I will make him into a great nation. But my covenant I will establish with Isaac, whom Sarah will bear to you by this time next year.' -Genesis 17:20-21
The Plains of Ur is the traditional birthplace of Abraham, the biblical patriarch revered by Jews, Christians and Muslims whose God is monotheistic. Jews DO NOT lose their identity as Jews believing on Yeshua, Jesus. They comfortably identify in modern time as Messianic Jews. Do Muslims lose their identity as Muslims believing on Yeshua, Jesus? (Read scripture at left.) Consider this book testimony: Seeking Allah, Finding Jesus. (Video from book author.) Muslims are greatly encouraged to reexamine who Jesus claimed to be: The Quran makes references to the Bible; however, the Bible never refers to the Quran for truth or authenticity.
Ask me if I'm an American and I'll tell you to your face that I only identify as a Believer in Christ Jesus, and that my allegiance is to Him. I live by the Holy Bible, period. I choose to be the person I desire to be regardless of where on the planet I should find myself. Jesus is the only one who is faithful in my life journey. The U.S. government is not Christian. In fact, it is a political, secular crapshoot with traces of limited Biblical principle. The U.S. has stolen Liberty Dollars from me and it does nothing to eradicate the godlessness in Vermont. The secular VT State caused my wife to turn against me and stole a half million dollar property from me at the stroke of a pen. I have been persecuted by some who call themselves "christian", yet I do my best to remain faithful to Christ Jesus. Point is, I'll be the judge as to who is Christian, "Christ-like" towards me.
Words and labels throughout history run deep… what does it take to stop the devil from causing division over labels! It is the soul, the spiritual eyes/mind and spirit of a man or woman that must bow in humility and adoration of Jesus, Yeshua. ( Every knee, every tongue) Modern terms for non-believers: Gentile [not a Jew]; Infidel [a person who does not believe in religion of monotheistic faith or who adheres to a religion other than one's own.] People who have never identified with any faith let alone Christianity welcome to God's free eternal gift!
"so that there should be no division in the body, but that its parts should have equal concern for each other. If one part suffers, every part suffers with it; if one part is honored, every part rejoices with it. Now you are the body of Christ, and each one of you is a part of it." -1 Corinthians 12:25-27